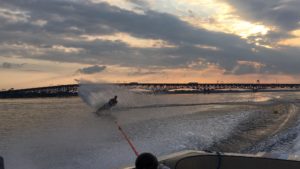 This week's post comes to us courtesy of Baxter Swenson.  Thanks, Baxter.
~~~
You're gonna have a lot of lasts in your life.  The last day of school, the last dance at a party, the last run of the season.
They say you should not take your last run.  That's when injuries happen you know?
I say you should not have last runs.  That's when quitters happen.  That is when you resign yourself to fate.  To the finality of the moment.
That so called last run could be the moment it all clicks.  When you find a rhythm.  When life aligns.
Yup, we may get hurt.  We may go down in a blaze of glory.  But we may also have an infectious smile on our face that can put the man in the moon to shame.
I thank you for not taking the last run.  Because your last run was your best run.
-Baxter Swenson